Melbourne Acrobatic and  Gymnastics Academy
Helping kids thrive
6 Furlong Street, Cranbourne West, 3977
Contact Us
Fill out the contact form below and we will be in touch!
Junior Development Program
Competitive Acrobatic Gymnastics
Competitive Women's Artistic Gymnastics
9YO+ and Teens Gymnastics and Ninja
Melbourne Acrobatic Gymnastics Academy is a privately owned Acrobatics and Gymnastics club in Melbourne's South East, established in 2018.
We are a registered club in Cranbourne West, affiliated with Gymnastics Australia. Each of our passionate coaches hold a National Accreditation to ensure all our members are in the best hands.
Our team of Staff and Coaches have been hand-picked to come together to cultivate a nurturing and positive environment for all members and families. Our Core Values are incredibly important to us and we know that this makes all the difference.
Now home to over 500 kids, we exist to Help Kids Thrive!
We believe in a holistic approach to movement. We have created both Recreational and Competitive Programs for boys and girls of all abilities from the age of 1, with the intentions of being totally inclusive, engaging and fun.
We use Gymnastics based activities as a tool for kids to LEARN how to move their body and DEVELOP physical, social and emotional competence to THRIVE now and in the future!
What We Value
Start with Heart
Loving what you do makes the good times better and the tough times worth it.
Learn with Enthusiasm
The capacity to learn is a gift; the ability to learn is a skill; the willingness to learn is a choice!
Better than Yesterday
Each day is a new opportunity to be a little bit stronger, a little bit braver and a little bit wiser than yesterday.
Lead by Example
Great leaders find ways to connect with people and help them reach their full potential.
One Team
We are a team, we have each other's backs.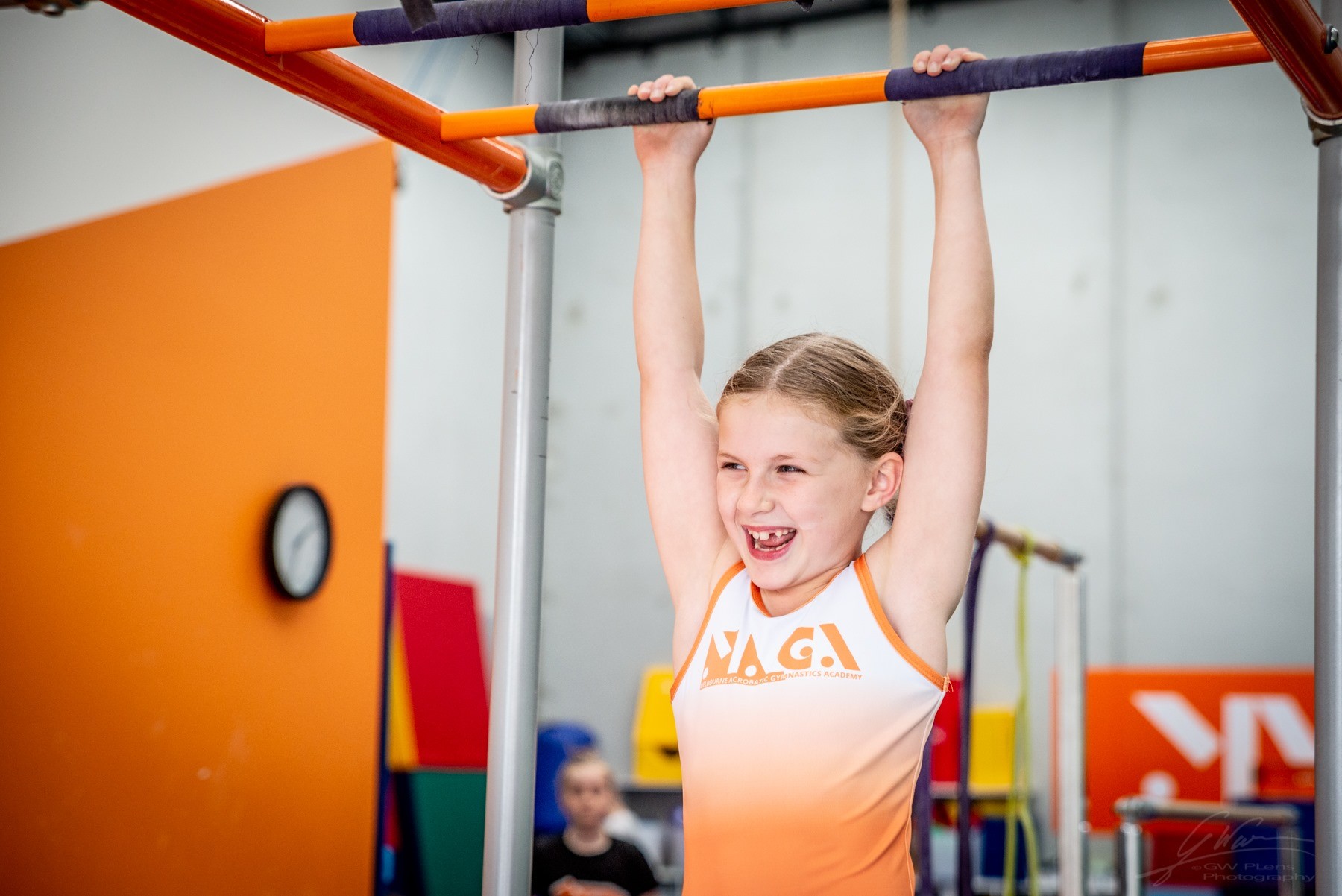 Booking a Free Trial
We know everyone needs to try what we offer! That's why we provide a FREE first class for every new student. Our classes fill up very quickly, so to book, simply check-out our timetable and contact us with your preference. We will do our best to fit in with you!
If it's your child's first time, we recommend staying and supporting them through their first class Please arrive 10 minutes early so you can finalise the paperwork, meet the staff and have a look around.
Your First Class
We make sure to always be friendly and welcoming. We'll greet you at the door and meet you at the desk to fill in the enrolment and waiver form. We'll talk you and your little one through the class step by step, show you where to put your belongings and introduce you to our friendly coaches.
Kids, you don't need to wear shoes or socks in class, and make sure you are wearing comfy clothes. We suggest no skirts or jewellery to ensure the safety of everyone. Lastly, don't forget your drink bottle!
The Venue
We are a privately-owned facility fully equipped with state-of-the-art equipment including Vault, Bars, Beams, Floor, Trampolines and Ninja equipment; suitable for Recreational Gymnastics & Ninja, Competitive Acrobatic Gymnastics & Women's Gymnastics. 
"MAGA is amazing! My daughter has been a part of the MAGA family for 9 months now and she loves it! My son has been doing the Ninja classes and has an absolute ball. It has boosted his confidence, self-worth and brings joy to his Monday's. The staff are extremely welcoming, friendly and go above and beyond for each student. I'm so glad we found MAGA." 
"Our daughter has been part of the Acro Squad Team for 6 months now, we cannot even begin to express how blessed and thankful we are to have found MAGA and be part of their Squad Family.. Our daughters confidence has improved significantly & all their highly experienced coaches are beautifully patient and cater for each child's individual skill level. MAGA has been so welcoming and encouraging. Highly recommended. We Love MAGA."
Helping Kids Thrive
Contact uS