Whether you want to learn how to run, jump, flip and fly, or race against the clock on an adventure obstacle course, we've got the party for you! We can tailor a Ninja or Gymnastics Party to suit every birthday child!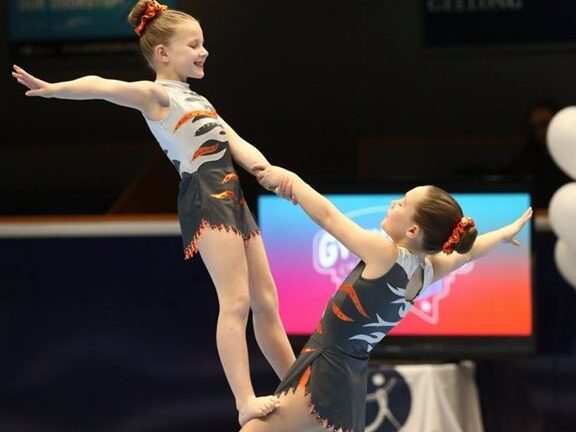 Whether you want to learn how to run, jump, flip and fly, or race against the clock on an adventure obstacle course, we've got the party for you! We can tailor a Ninja or Gymnastics Party to suit every birthday child!
Your two-hour birthday adventure will be supervised by our nationally accredited and experienced coaches, with exclusive use of the facility. We provide a mix of structured games and activities and supervised free play on all the obstacles. After an action packed 90 minutes of Ninja or Gymnastics fun, the party group will spend 30-minutes in the party room for food, cake and presents.
Our Parties are suitable for children aged 3 years to teens.
WHAT YOU NEED TO KNOW
Days Available: 1:30 – 3:30pm Sunday's.
Cost: $250 for up to 10 kids and $20 per child after that, up to 30 children. The $250 deposit to be made at time of booking.
How to book: To confirm your party booking please follow the link to our booking form and pay your deposit via Bank Transfer or EFTPOS. The remaining amount (any amount due for over 10 children, can be finalised on the day via EFTPOS. That way, you're not paying for extra children who RSVP, but may not make it on the day.
What to Bring: Bring your food, drinks, utensils and any extra decorations you'd wish to use. And of course, don't forget the cake! We have a fridge, microwave, kettle and coffee machine for you to use, but don't over-do the food, we keep the kids too busy!
When to Arrive: The birthday family can arrive up to 20 minutes early to set up in the party room.
Where to Find the Invitations: Simply follow the link below for our Ninja or Gymnastics Invitations.
WHY PARENTS LOVE OUR PARTIES
Don't lift a finger! We take care of everything. We'll greet you at the door and help you set up, we'll keep the kids engaged from start to finish, and we'll even take care of the clean up! So, sit back, relax and enjoy a coffee on us!
See what families say about us!
We are absolutely love it MACA My daughter going there a year she is improving altos
My daughter started here when she was 5 just doing fusion fit.... She is now competing in level 3 women gymnastics. The confidence, the strength, the education of how to care for her body from the coaches is amazing. She has learnt to work as a team, do her best but most of all have FUN this is constantly reinforced by all the team at MAGA.
Jessica Lisperguer
01/06/2023
MAGA has been an amazing experience all round. My daughters love attending every lesson, have learnt so many new skills and their confidence has grown so much. Every staff member is so welcoming and happy to answer any questions I have. Thanks to the whole team.
My daughter has been attending MAGA for nearly a year and she absolutely loves it. She had previously been attending another gymnastics closer to home, but this place is a major improvement. Great facility, fun, interactive classes and friendly coaches.
Amazing, amazing, amazing. Always so helpful and go out of their way to help. Steph is just superwoman. Highly recommend. To those of you who have given negative feedback, sad to say it must be you because it definitely isn't them I can't fault them in any aspect.
Absolutely amazing staff and venue. The staff worked tirelessly with our daughter to find a program that suits her. They are patient, respectful, helpful and understanding. Would very much recommend!
They company are passionate about teaching the children the correct formations of all gymnastics & acrobatic styles, but they add the fun element into it as well. Their birthday parties are run professionally and the kids have so much fun. You do need to bring in your own food, but the party runs in two sessions, so you don't need much food, as the children just keep asking when can they go back into the gym.
Patricia Ametoglou
27/05/2023
Both my girls love it here! Steph and the team are great.
Charlotte Newham
26/05/2023
This is such a great environment for the kids to let out some energy, make friends, and learn some really cool skills! All the coaches are amazing and kind, and they have such a dedicated owner, Stephanie who is always there to help. Such an awesome club!
ARCHI JINAL PATEL
26/05/2023
The Team at MAGA is well-experienced, and they know their roles very well. My daughter Arohi has only excelled in her skills since the day she joined MAGA. I CANT WAIT for Arohi to win competitions for MAGA and achieve her future goal ❤️ Thank you, Team, and keep up the fantastic work!